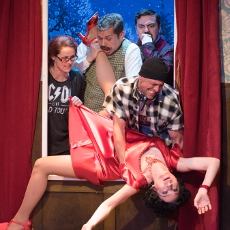 The Play That Goes Wrong
Ein katastrophaler Theaterabend!
Komödie von Jonathan Sayer, Henry Shields und Henry Lewis
In deutscher Sprache
"Mord auf Schloss Haversham' heißt das Stück, das eine ambitionierte Laientheatertruppe aufführen will. Ein klassisches Kriminalstück in ländlicher Abgeschiedenheit mit familiären Verstrickungen, korrupten Polizeibeamten, loyal-verschwiegenen Dienern und widrigen Wetterbedingungen. Doch bei der Aufführung geht einfach alles schief: Türen lassen sich nicht öffnen, Requisiten sind nicht an ihrem Platz, Dialoge laufen in der falschen Reihenfolge ab und Schauspieler werden bewusstlos geschlagen. Doch so britisch steif das Krimi-Stück auch ist, oder wie gnadenlos die Auftritte der einzelnen Akteure auch danebengehen, das Wichtigste ist: Haltung bewahren und sich nur ja nichts anmerken lassen. The Show must go on! Die junge Londoner Theatergruppe Mischief Theatre um Jonathan Sayer, Henry Shields und Henry Lewis hat ein Gag-Feuerwerk entworfen, das nicht nur Freunden des englischen Humors Bauchschmerzen vor Lachen bereiten dürfte. Das Stück ist seit seiner Uraufführung in London restlos ausverkauft und wurde am West End in London vom Publikum sowie der Presse bejubelt und wurde mit dem Olivier Award und dem Prix Molière als "Beste Komödie' ausgezeichnet. Im Sommer ist es endlich auch in Hamburg zu sehen.
Veranstaltungen / Tickets
Ticket-Ticker
Ticket-Ticker - kein Event mehr verpassen!
Registrieren Sie sich jetzt für den Ticket-Ticker und Sie werden per Email informiert, sobald neue Tickets für The Play That Goes Wrong verfügbar sind!